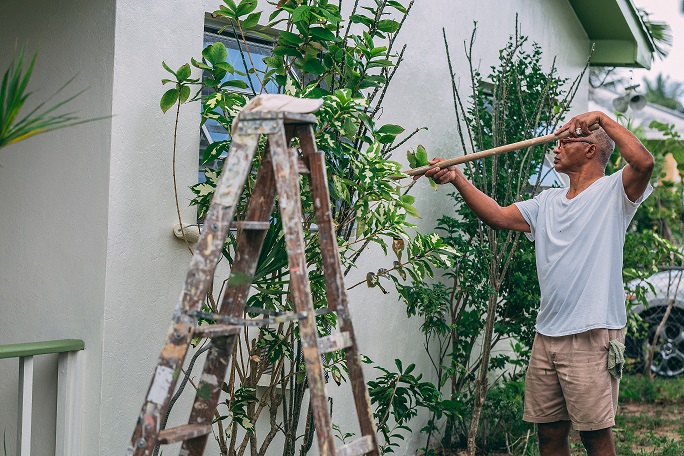 June 4, 2020
Whether you have a garden the size of a postage stamp, or an acre of land to keep you busy whilst off on furlough, then now is the ideal time to get your garden looking like it should be a contender in the Chelsea Flower show.
With time and weather both on your side you don't need to be Alan Titchmarsh to spruce up your garden space. Here are our top 10 tips for creating an ideal garden, irrelevant of space, and give you a place to enjoy as well as help increase the value of your home:
1.Create an area for relaxing – whether this is a small corner with a hammock, or a larger space to admire, tidy up one part of the garden and create a quiet and secluded nook just for you.
2.A fence will offer privacy and a sense of security. However it can often be a contentious matter with neighbours as to who owns the fence and who is responsible for the upkeep, so try and come to an agreement with your neighbours that benefits both properties. If you already have a fence consider painting it to make it more appealing and blend in with your garden space – choose from a variety of designs, materials, and colours.
3.Entertaining – if you are waiting eagerly for the days where you can have family and friends round again then consider creating a bespoke area with a fire pit and outdoor kitchen or barbeque.
4.Get planting – whether this is a small pot at the front door or beds of plants around the garden, make sure you plant for the season and create a colourful display. If this can be seen from the street then it will help with kerb appeal. If you don't have green fingers, then you can easily buy potted plants that are already grown. A few small trees will also make a big difference to the look of a garden. Consider developing a theme – this can be anything from a Japanese garden to a water-themed area – and create a cohesive design that runs throughout your garden.
5.Build a shed to hide any clutter, keep tools safe, or keep children's toys or furniture somewhere clean and away from the bad weather for when they are needed. Once you have built the shed be imaginative with how you decorate the outside of it.
6.Build a path and create some structure – one of the easiest and cheapest ways to transform your garden is to cut the lawn into a clearly defined shape and when it comes to paths, gravel is a much more affordable surface than paving, and can look more authentic.
7.Outdoor fairy lights are not just for Christmas. They can be bought online all year around and are a quick, simple and cheap way to bring a pretty and warm glow to a garden and the outside of a house.
8.Decking provides the perfect platform for socialising and by adding an outdoor table and rugs you can quickly turn it into an outdoor living area. You can transform existing decking by cleaning it with a hard brush or power hose and then adding a protective coat of oil. Consider staining the decking in a colour to match your shed or fence or to keep in with the theme of the garden.
9.Unleash your inner artist and up-cycle your wooden garden furniture. Make an old bench become a chic focal point with a lick of fresh paint.
10.If you have a small space and are itching for a lush green lawn, but don't have the time to maintain it, then consider fitting artificial grass. It can be easy to lay and if done correctly will look as good as new all year round.
There are plenty of ways to give your garden an instant lift, and with the extra time you may find you have on your hands, along with the fact that you cannot currently get the help of a gardener, now is the ideal time to transform your outdoor space ready for the summer.