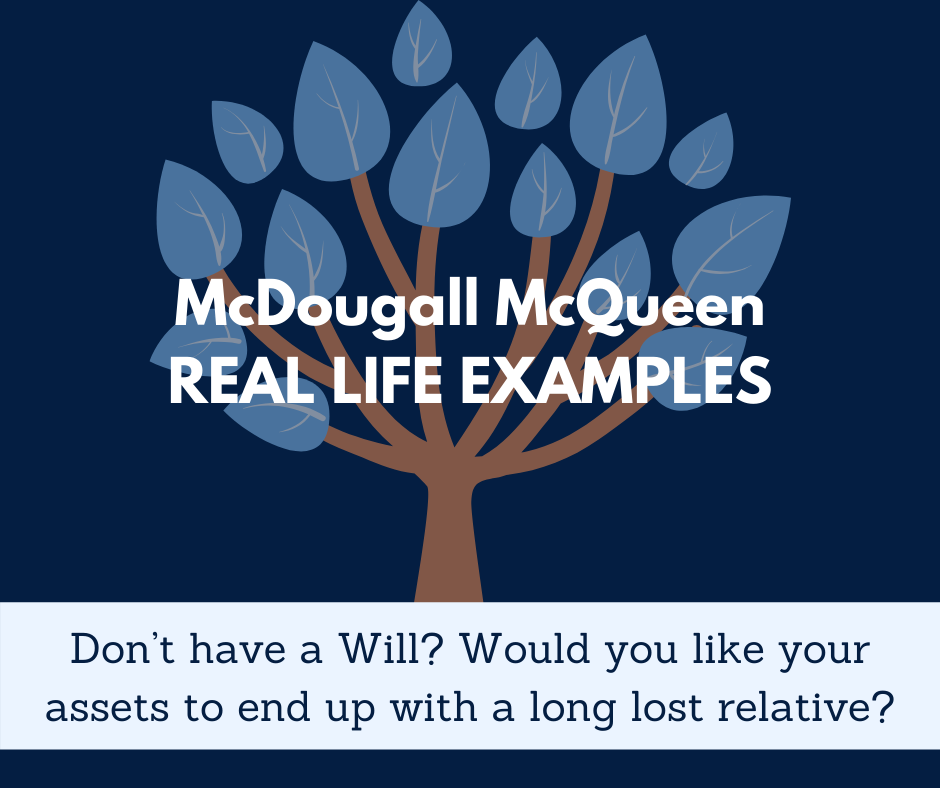 April 23, 2020
If you don't have a Will, you are leaving it to the law to decide how your estate is passed on. This means your money, your house, your pension, or indeed any possessions could all end up in the hands of someone you don't even know. Read our real life example to see what could happen.
McDougall McQueen is often called upon to advise on cases where someone dies unexpectedly and there is unfortunately no Will in place. Read our real life example to see what could happen.
Graeme, an only child, is not married and doesn't have children. He leads a quiet life, although has a small circle of close friends with whom he spends time with. An engineer for a large company, Graeme is prudent with his money and has been looking to his future and investing in various stocks. He has been with the company for almost 20 years and has amassed a decent pension, along with death-in-service benefits. Since the death of his parents two years ago he has also considerable assets left to him, including the original family house on the outskirts of Edinburgh.
With no dependants, and no close family left, when Graeme passed away suddenly at the age of 51, it was his friends who arranged the funeral. With no Will, there was no instruction as to the division of assets. After much investigation by lawyers, a long lost relative in Surrey was found and contacted about Graeme's death. Sarah had never met Graeme, but found herself the beneficiary of his generous estate.
It is very rare that assets left by a deceased person will end up going to the state. Even without a Will, lawyers will do their best to find a relative to inherit the deceased person's estate and this can often end up being a long lost relative that has never even met the deceased. You do not need to leave your Will to your family. Many people see friends as the family they choose therefore it is just as important to name these people on your Will should anything every happen to you.
McDougall McQueen are currently discounting the prices of Wills and Powers of Attorney and offering free standard Wills to our NHS frontline staff. Please get in touch to ensure your affairs are in order.