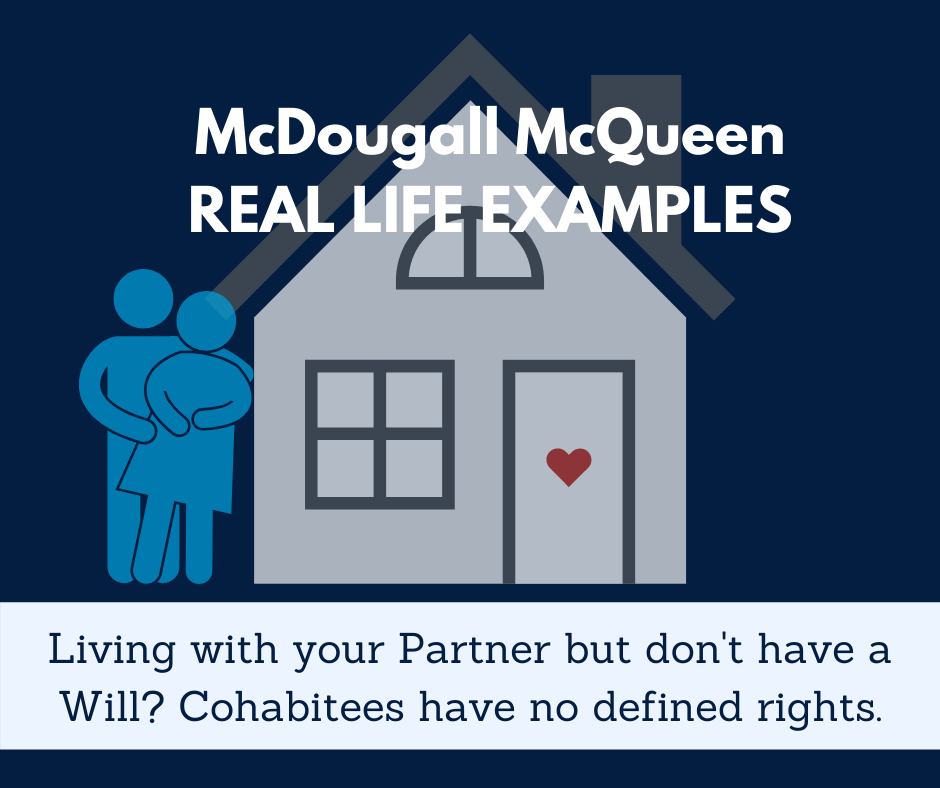 May 7, 2020
If you don't have a Will, you are leaving it to the law to decide how your estate is passed on. This means you have no control over your money, your house, your pension, or indeed any possessions after you have gone. You also don't have a say in your funeral arrangements and are putting a huge amount of pressure on loved ones.
McDougall McQueen is often called upon to advise on cases where someone dies unexpectedly and there is unfortunately no Will in place.
John is a fit and healthy 38 year old man who enjoys the finer things in life. As a surveyor he earns a nice salary and lives a comfortable life with his girlfriend in his duplex apartment in Leith. John bought the property 5 years ago when he was single and although his girlfriend now lives with him, they do not share the mortgage or have a cohabitation agreement. Relatively young and with no kids, John's only plans for the future are about where they should eat out on Saturday night and where their next city break is going to be. On the outside, he appears to be living the good life, but for various reasons John suffers from major mental health issues.

Tragically John commits suicide. He has not yet introduced his parents to his girlfriend and when this tragedy occurs it is understandably a very stressful and emotional time for the family, made even more so by the fact that the two parties have not met, and both feel they know what is best for him. There is no Will to say what should happen with the funeral plans and therefore the family decide to have a religious and intimate ceremony in tradition with their family. The girlfriend however knows that John was not religious and had not been in a church since he was 12 years old and would not have wanted a religious funeral. She therefore arranges a separate farewell gathering for friends and colleagues. When it comes to the property, the girlfriend is effectively thrown out of the flat she has been living in for the past year as the family put the property on the market and start to divide up John's assets.
Unfortunately nobody knows what tomorrow can bring and without a Will you are placing extra pressure on our family at what is already a very emotive and stressful time. The girlfriend could have made a cohabitation claim through the courts, however there is no guarantee that this would be successful. It is also worth noting that such a claim must be made within 6 months of death, which could easily be missed in such circumstances. Cohabitees have no absolute or defined rights under intestate laws of succession, and any award made by a court is completely discretionary, so even if a cohabitee lodges a claim with the court within the 6 months timeframe, there is no guarantee on what (if anything) the court will award them.
McDougall McQueen are currently discounting the prices of Wills and Powers of Attorney and offering free standard Wills to our NHS frontline staff. Please get in touch to ensure your affairs are in order.