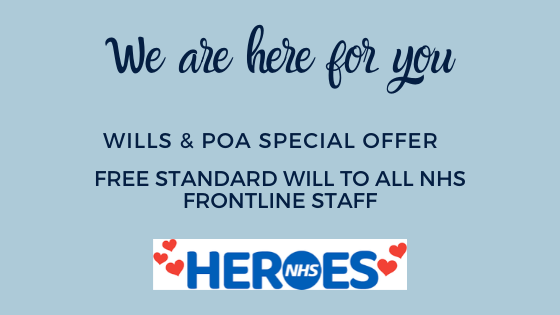 April 7, 2020
At this uncertain time we are here with you and understand your stress and worry. We care about you and your family and are here to assist in any way we can – that is why we are currently discounting the prices of our Wills and Powers of Attorney and offering free standard Wills to our NHS frontline staff.
2 mirror Wills (designed for couples) and 2 Powers of Attorney for a total of £995 inclusive of VAT and outlays
Standard Will and Power of Attorney for a total of £650 inclusive of VAT and outlays
Standard single Will for £240, Mirror Wills for £420
FREE standard Will to all NHS frontline staff

(

valid until end June 2020)
Our NHS are doing an amazing job, working tirelessly for us all throughout this stressful time, and we would like to play our small part in saying thank you! Please share our current offer with family and friends in the NHS as we would be delighted to help them plan for their future and offer them a free standard Will.
Why do you need a Will and Power of Attorney?
Some of the key reasons for needing a Will include:
Making a will can help protect your loved ones after you die

Making a Will allows you to express your final wishes clearly and without one you are leaving it up to the law to decide how your estate (your money, your possessions and your property) is passed on – and this may be not be the way you wanted it.

Unmarried partners aren't entitled to anything from your estate unless specifically stated in your Will – no matter how long you've been together. Writing a Will ensures your partner will receive their fair share of your estate.
Families today are often complex, especially when people have been married more than once or perhaps have children from previous relationships – having a Will can protect the right people.
Having a Will in place can help those who are financially dependent on you, so that you can protect those close to you and ensure that any wishes cannot be misunderstood.
Without a Will, administering your estate will be lengthy and more costly, causing further stress and expense.
A Power of Attorney (POA) is a written document giving someone else the legal authority to take actions or make decisions on your behalf. It can help your family (or whoever you appoint) to take decisions concerning your personal welfare or financial affairs to help you if you are no longer able to do so yourself, whether this is due to illness or sudden accident.
Our team of experts can draft your Will and Power of Attorney for you remotely – via telephone, Zoom or Skype – whatever makes you most comfortable. We are here to help.
Don't leave anything to chance – get in touch with McDougall McQueen today for further information regarding our Wills and POA special offer.
Offers valid throughout April and May 2020 – OFFER EXTENDED
NHS offer – confirmation of NHS card required. Subject to admin / AML charge of £30.