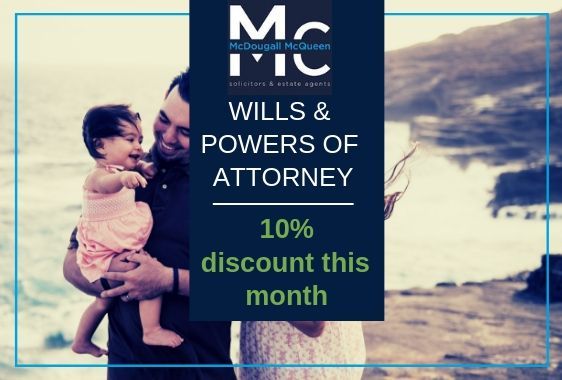 March 5, 2019
If you have been putting off making a Will and appointing a Power of Attorney then now is the time to do it. McDougall McQueen is offering a 10% discount on all Wills and Powers of Attorneys this month.
Making a Will allows you to express your final wishes clearly, and without one you are leaving it up to the law to decide how your estate (your money, possessions and property) is passed on – and this may not be the way you wanted it to be.
Have your circumstances changed recently? Perhaps there is a considerable change in your assets, you have had a baby, new grandchildren, are recently married or divorced, or fallen out of favour with a family member? It is vital you always have an up-to-date Will, so throughout March we will also be offering a free review of your existing Will.
In addition to a Will, you should also have a Power of Attorney. When you grant a Power of Attorney you appoint someone you trust to look after your financial affairs (and sometimes personal care too) if you are no longer able to do so yourself. This could be useful if you are working / living away from home for some time, or if you are no longer able to make decisions for yourself due to illness or serious accident. If you have not granted a POA and can no longer make decisions for yourself, either the local authority may step in and deal with matters or a family member would have to apply for a Guardianship order which can be time consuming, costly and stressful.
Get in touch with HelenJones@mcdougallmcqueen.co.uk to find out more.
***T&Cs – 10% discount on Will / Power of Attorney fees instructed in March and completed by the end of April 2019.